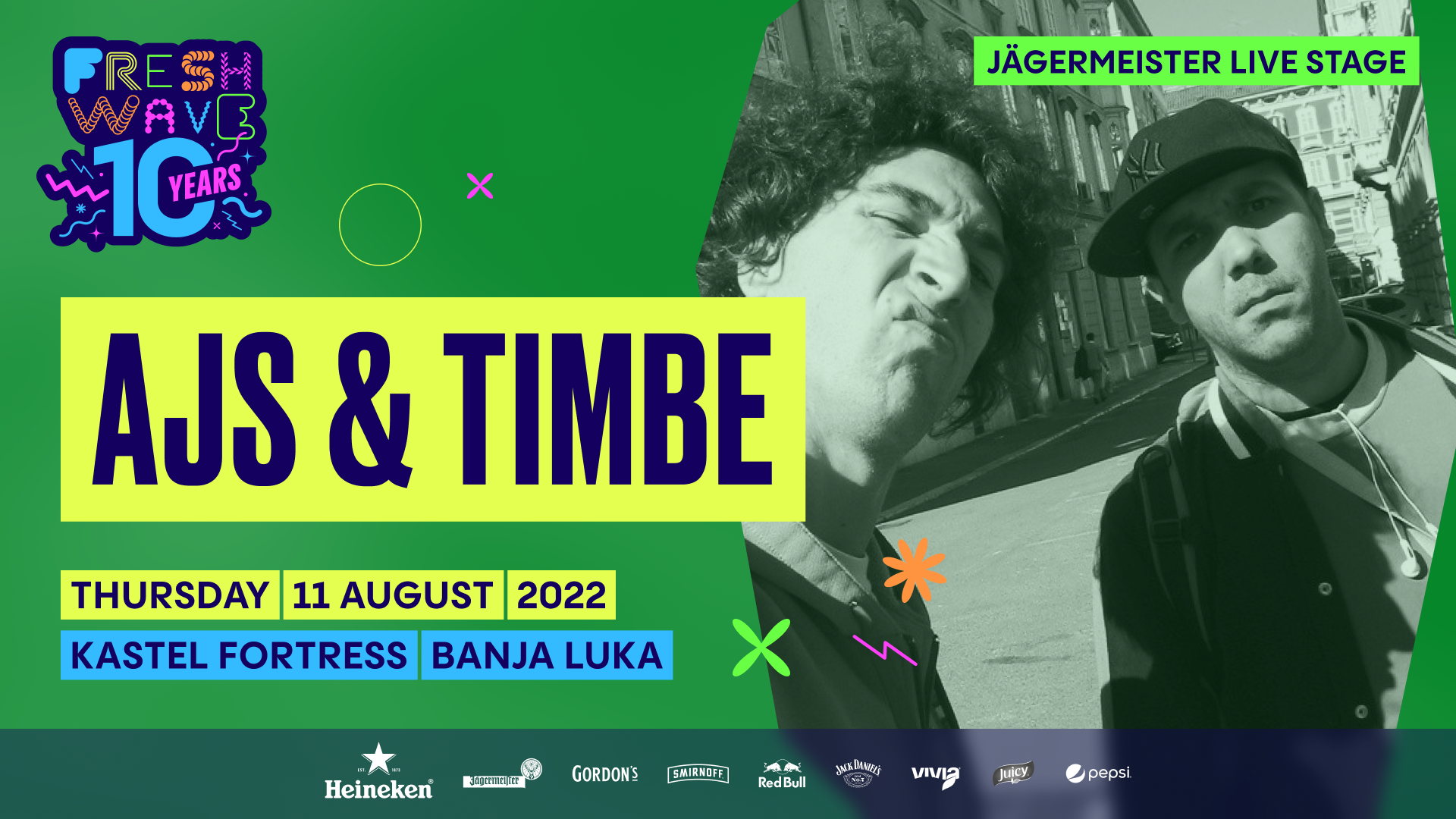 18 May 22
Ajs i Timbe returns to Fresh Wave Live Stage!
Ajs i Timbe is coming to Jägermeister LIVE Stage to join the list of confirmed performers at the Kastel Fortress at the jubilee edition of the Fresh Wave Festival: Buč Kesidi, SENIDAH, Vojko V. Kukus Klan, Z++, Ajs i Timbe, Smoke Mardeljano and Grše!
Two of the three from the Bad Copy form the underground part of one of the most successful and influential hip hop groups in the Balkans. Ajs and Timbe are a representative of dirty, Belgrade, hip hop sound, and their recognizable style has created an army of fans throughout the region. Originality. This is what makes them elusive for all those who would like the world to be framed, neatly arranged and categorized in clear frames without the possibility of freedom of expression, fusion and unique musical expression. Their expression through music is something special.

Always fat and hard beats in which the influences of some of the world's greatest hip hop greats are discerned, epicly arranged in a kind of rhapsody complete extravagant rhymes, which these hip hop connoisseurs compose on their own and never possible to copy style, which makes a splash of regional hip hop sound without which would make this scene overcooked, tasteless and difficult to deceive.

Twenty-five years have passed since the first gathering of the members of the band Bad Copy, and the legacy they have created so far is almost unbelievable. With the fifth studio album and many timeless hits such as: Idemo odmah, Uno duo tre, Esi mi dobar will make the first day of the festival very special as Ajs and Timbe arrive at Fresh Wave on Thursday, August 11th.

Don't forget that you can get your Early Bird three-day tickets at kupikartu.ba. The number of these best price tickets is limited, so only the quickest will have an opportunity to lay their hands on them. And to celebrate our jubilee edition, we have prepared a completely free stay in the festival camp for everyone who buys a three-day festival ticket.

The festival camp will be located along the walls of the Kastel Fortress, on the left bank of the Vrbas River. In addition to complete infrastructure, gastronomic offer, bar, DJ stage, and thick shade under the canopy of willow and plane trees, visitors can enjoy rafting and have unforgettable moments on unique, traditional Dayak boat rides.

To secure your place in the festival camp on time with the already purchased three-day festival ticket, you need to register by e-mail:

camp@freshwavefestival.com or to do so by calling +387 65 975 106.

Please note that the camp's capacity is limited, so hurry up and book the best accommodation for Fresh Wave 2022.