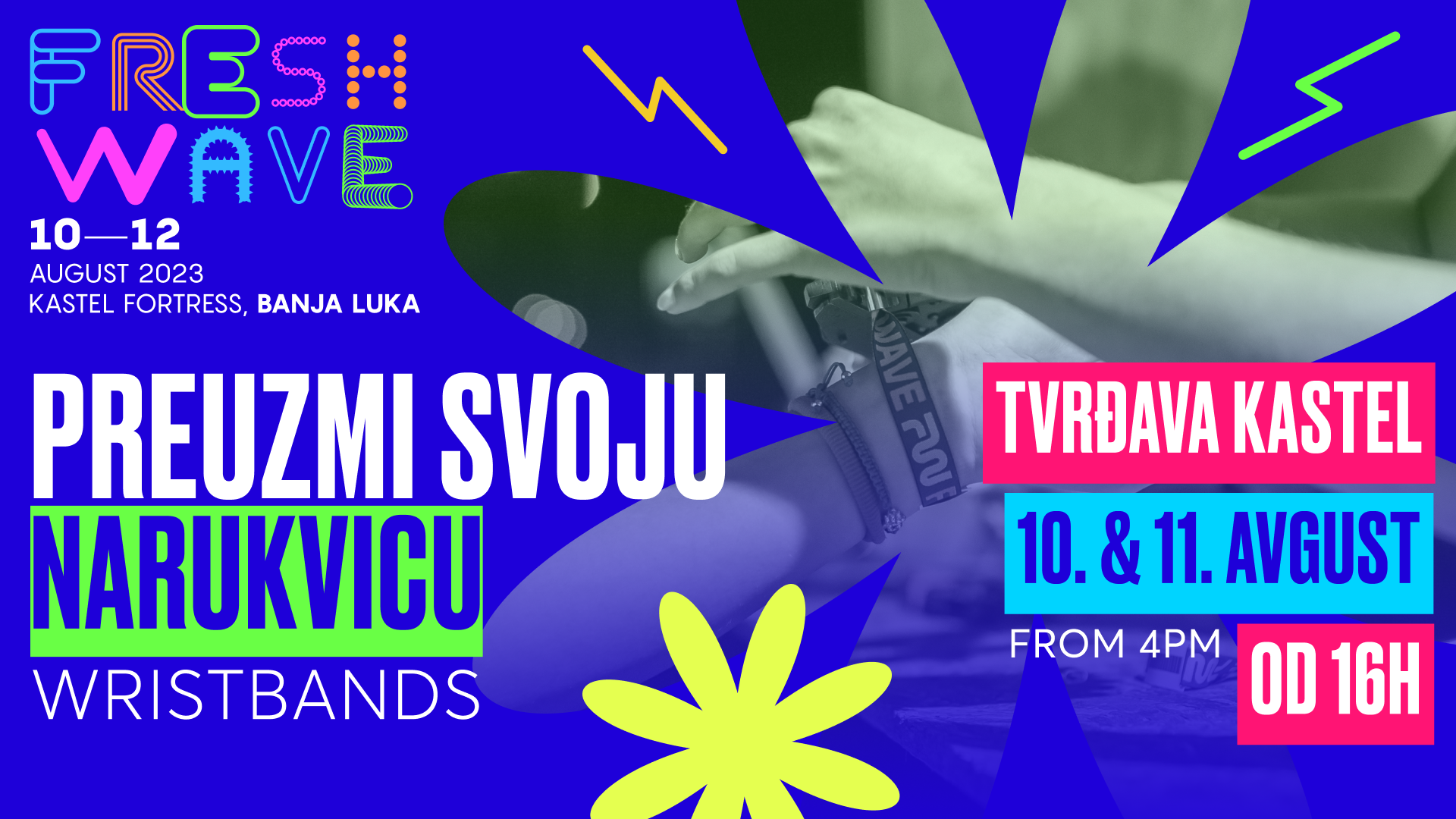 09 Aug 23
Change your tickets for festival wristband on time!
"Where is my ticket?", "I lost the ticket!", "Did anyone see my ticket?", "Is that my ticket on the ground?", "Is that my ticket going down the river?", "Is that person eating my ticket?!"
It's time to trade in your festival tickets for festival wristbands! Festival wristbands will be available for pick-up at designated locations during the festival, i.e., August 10th, 11th and 12th from 4 p.m. to 3 a.m. The location of the festival stands is at the northern gate, i.e. the main entrance to the Kastel fortress.
We invite all visitors to take advantage of the opportunity to exchange their festival tickets for festival wristbands already in the afternoon in order to avoid potential crowds at the festival stands that are lined up for exchanging tickets for wristbands.
Almost 100 performers will perform on a total of 5 festival stages at the upcoming Freshwave festival, and the greatest interest is in the performances of the festival's headliners: Eelke Kleijn, Argy, Indira Paganotto, Ilario Alicante, Bart Skils, Miss Monique, but also regional superstars: Butch Cassidy, Sara Jo, Crni Cerak and Lacku, Vojko V. Mimi Mercedes, Grše, Smoke Mardeljano and many others!
All kinds of tickets are on sale for the upcoming Freshwave, which will take place from 10-12. in August to the Kastel fortress in Banja Luka to gather some of the most desirable regional and world performers! We remind you that Regular Freshwave tickets are on sale:
A REGULAR 3-day ticket is available at a price of 45€/89 KM
A REGULAR 1-day ticket is available at a price of 18 €/35 KM
A REGULAR 3-day VIP ticket is available at a price of 75€/149KM
REGULAR 1-day VIP ticket is available at a price of 30€/59KM
By purchasing VIP tickets, you get the benefits of access to the festival's VIP zone, which is located next to the festival's Main Stage, and in which, in addition to the best position at the festival, visitors can enjoy the highest level of catering service, a cocktail bar, separate tables, special access to a separate toilet, with a limited number of visitors , that is, maximum comfort at the festival itself.
Festival tickets are available at the ticket service kupikartu.ba
Secure your Freshwave2023 tickets in time.