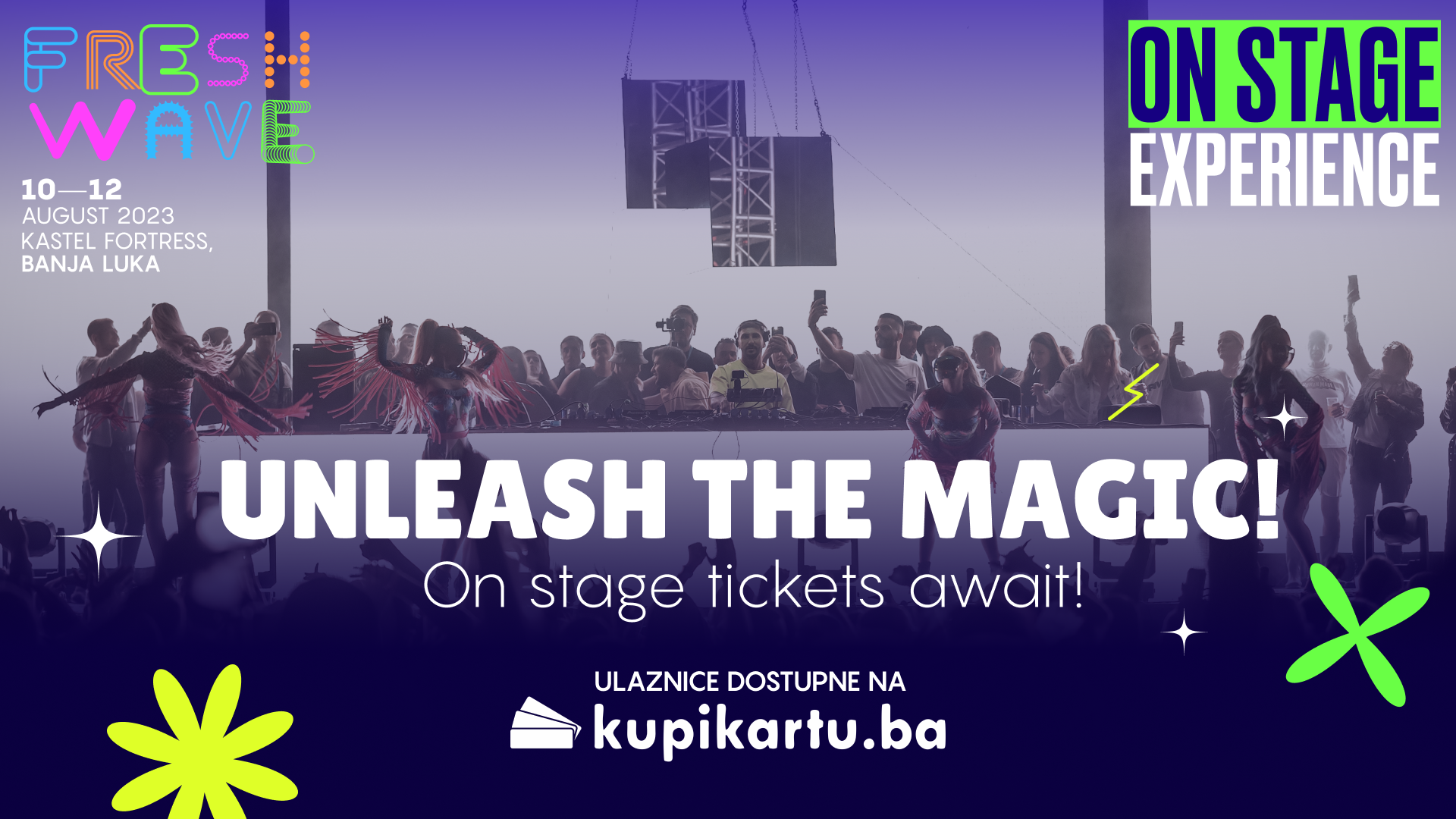 03 Aug 23
Freshwave ON STAGE EXPERIENCE
With the purchased On Stage Experience ticket, you have access to the stage and the VIP zone. You can buy your daily On Stage Experience ticket for the price of 100 KM. The number of tickets is limited and 100 tickets are on sale per festival evening. Don't miss the opportunity to hang out with […]
With the purchased On Stage Experience ticket, you have access to the stage and the VIP zone. You can buy your daily On Stage Experience ticket for the price of 100 KM. The number of tickets is limited and 100 tickets are on sale per festival evening.
Don't miss the opportunity to hang out with the biggest stars of this year's Freshwave Festival and share the experience with them from the biggest festival stage – the Freshwave Festival Main Stage. Indira Paganotto, Bart Skils, Miss Monique, Eelke Kleijn, Argy, Ilario Alicante, Butch Cassidy, Sara Jo, Crni Cerak i Lacku, Vojko V. and others are waiting for you!
We remind you that the following are on sale:
A REGULAR 3-day ticket is available at a price of 45€/89 KM
A REGULAR 3-day VIP ticket is available at a price of 75€/149KM
By purchasing VIP tickets, you get the benefits of access to the festival's VIP zone, which is located next to the festival's Main Stage, and in which, in addition to the best position at the festival, visitors can enjoy the highest level of catering service, a cocktail bar, separate tables, special access to a separate toilet, with a limited number of visitors , that is, maximum comfort at the festival itself.
Tickets are available at kupikartu.ba