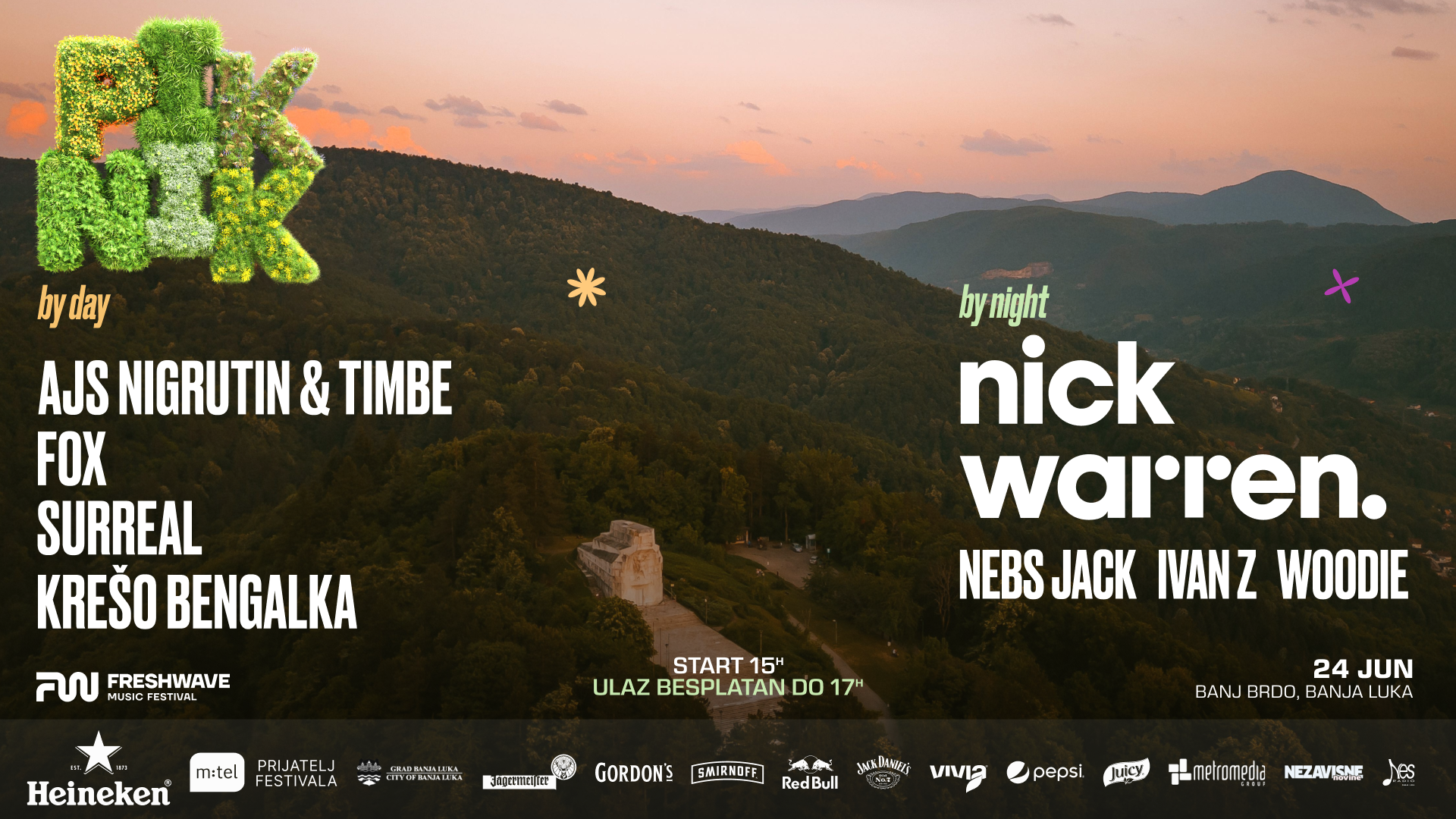 30 May 23
Hottest Freshwave Picnic is nearly here!
Save the date! On June 24th we are preparing the hottest Freshwave Picnic so far!
The last weekend in June this year is reserved for the seventh edition of the Freshwave Picnic at one of the most beautiful locations in the Banja Luka region – Banj brdo. With day and night activities and more than 12 hours of music program, the upcoming Freshwave Picnic creaks all its records and breaks past limits!
The daily program consists of the champions of the Balkan hip hop scene and very well-known names, who never leave their audience indifferent: Ajs Nigrutin and Timbe, Fox, Surreal and Krešo Bengalka!
What more to add!?
We have something!

The night program will take us through an unforgettable evening in which Nebs Jack, Ivan Z and Woodie will perform, and the main star of the evening is the timeless superstar and one of the most important names in the world electronic music scene, Nick Warren!
Nick Warren is still so respected because he knows how to really make an audience happy, delivering time and time again masterful sets and incredible energy, yet taking them somewhere they've never been before. That's what comes with vision and, just as importantly, and especially in Nick's case, experience. His impressive career saw him release the first 'Back to Mine', with an incredible eight albums for 'Global Underground' and one for 'Renaissance'. He is the head of A&R for Hope Recordings, and a member of the highly acclaimed duo Way Out West. Starting as a DJ on tour with the legendary trip hoppers Massive Attack, he built a name that earned him a residency at the super club Cream, performances on every podium on the planet, and a natural position as one of the most respected DJs in the world.
Tickets for the upcoming edition of the Freshwave Piknik are available in advance at the price of 15 KM, available at the ticket service kupikartu.ba, and on the day of the event, tickets will be available at the entrance at the price of 20 KM.
We remind you that the Best Deal are three-day festival tickets for Freshwave2023, where the following have confirmed their performances so far: Argy, Indira Paganotto, Bart Skils, Elke Klejin, Javier Portilla, Sinisa Tamamovic, Lea Dobričić, Mladen Tomić, Nebs Jack, Nexie, Pero Fullhouse . 37 Euros for three-day festival tickets and VIP three-day tickets at a price of 120 KM/62 Euros with a discount of more than 25% compared to full festival ticket prices.