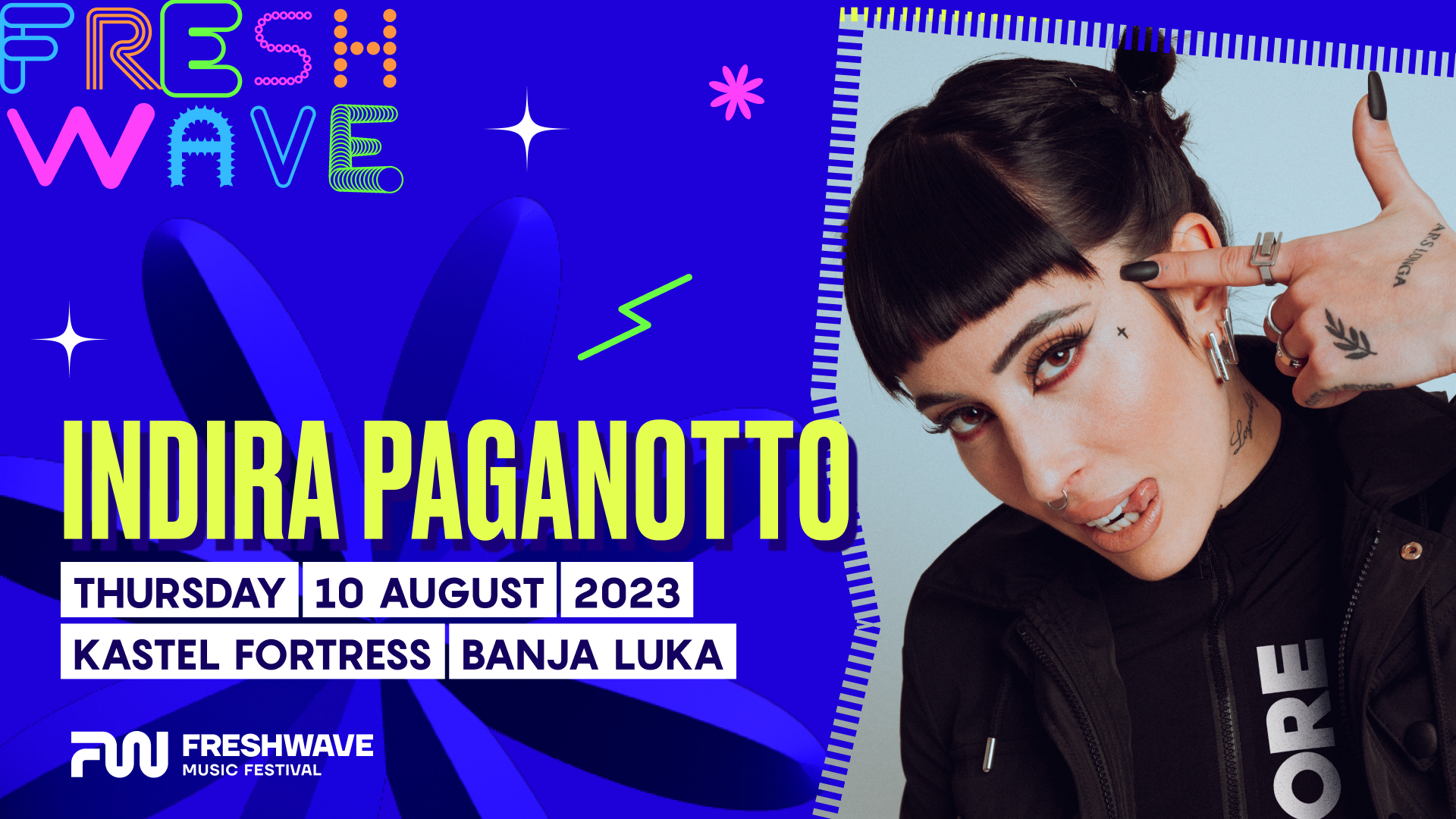 28 Mar 23
Indira Paganotto and Bart Skils leads the Phase 1 of Freshwave2023.
New decade is here!
Next summer, from August 10 to 12, the new, eleventh edition of the Freshwave Festival will be held at the Banja Luka Fortress Kastel. A new decade in the history of the festival, nurturing quality sound and investing in constant growth, and as we previously announced, Freshwave wants to start with the best edition of the festival so far, with a record number of performers, festival stages and zones, the biggest festival camp, the best festival production and some of the most sought-after global and regional performers. Stage 1 at Freshwave 2023 will feature: Indira Paganotto, Bart Skils, Javier Portilla, Mladen Tomić, Nebs Jack, Crni Cerak and Lacku, Sara Jo and Buc Kesidi!
Indira Paganotto comes from a musical family, which gave her access to different musical genres from an early age. It turned out that it really had an impact on her, because at the age of 17, she already released her first release for the label owned by the famous DJ and producer Ian Pooley. After that, there were releases and collaborations with names like: Amelie Lens, Ben Klock, Adam Beyer, Flug, Dasha Rush, Oxia, Sven Vath, and just last weekend, a collaboration with another great techno diva – Nina Kraviz, was released on the track which is entitled "White Horse".
Here's what Mixmag, one of the most famous media in the world of electronic music, announced in an interview with Indira: "Indira's sets are full of groove and power, she draws elements from all genres, including psyprogressive, minimal and techno, not being afraid to mix genres or styles, always with a touch of organic acid, which reminds her of her musical heritage. This energetic eclecticism became her main signature, along with her omnipresent smile. Indira Paganotto is a new big name in the world of techno sound, and this summer we will have her at Kastel Fortress. on the biggest stage of the Freshwave Festival.
Always one step ahead, Bart Skils has established himself as one of the world's most respected and sought-after techno artists, and one of the reasons for this is his extremely advanced and musically well-constructed DJ sets, which easily win the hearts of even the most die-hard fans of this sound. His releases and remixes for Drumcode, 100% Pure, Tronic, Break New Soil, Cocoon and Rejected are some of the most cutting edge tracks to come out of his Netherlands in recent years. His reputation has given him the opportunity to collaborate and collaborate with big names such as: Joris Voorn, Adam Beyer, Christian Smith, Nicole Moudaber, Kaiserdisco and Kollektiv Turmstrasse.
Javier Portilla, a DJ and producer with a recognizable deep tech sound, tamed through different styles and musical influences, which this artist tirelessly shaped while working in his native Costa Rica, then Madrid, then London, comes straight from the famous dancefloors of Barcelona to the fortress of Castel, this summer. San Jose and finally Barcelona, ​​where he consolidated his distinctive style and began to build his rising musical career. Javier found a new base in Barcelona, ​​and at the same time began to travel the world as a true nomadic DJ. His adventures took him from Buenos Aires to Reykjavik, from Goa to Singapore, from Mexico City to Dubai, from Sri Lanka to New York and to all corners of the planet. After presenting his harmonious and hypnotic style at some of the most legendary festivals and clubs such as Burning Man, Envision Festival, Off Sonar, Cafe Del Mar and La Boite, he is coming to Freshwave this summer!
In addition to this magnificent trio, this summer, we will enjoy the performances of regional stars Sara Jo, Crni Cerak and the phenomenal Butch Cassidy, who with last year's performance on the Live stage of the anniversary edition of the festival raised the level of quality of "live" performances at Freshwave to a level higher! After the well-known success story of this duo and three studio albums, Butch Cassidy still has a strong author's signature and refreshing songs with originality and a unique, energetic atmosphere.
Relja Despotović Seksi, Đorđe Bibić Biba, Andrija Đorđević Bandra and Miljan Rogošić Ourmoney are Crni Cerak, a Belgrade trap crew, whose beats and rhymes began to be heard over the phone in the city's corners, and now throughout the most popular clubs in the region and the diaspora. With the song "CC#2" for the hit project "South Wind" directed by Miloš Avramović, they broke all records, and for the debut film production of director Luka Mihailović "Indigo Crystal", which is currently in cinemas, they signed the complete soundtrack, which according to reviews on social media nets record incredible results. On the biggest stage of the festival, he will perform with a guest, i.e. as Crni Cerak and Lacku.
Sara Jo, who is considered to be one of the most influential and certainly the most talented performers from this area, will join the names of Phase 1 Freshwave Festival 2023 and bring a wave of glamour, unique style and fantastic energy to Castle Castle. The influence he has on upcoming stars is immeasurable and speaks volumes for the kind of performer he is. Sara Jovanović is building her career, which is constantly on the rise, with quality and in cooperation with the best, and the special cherry on top are her performances, which we will, without a doubt, enjoy this summer at Kastel Fortress.
Residents of the festival in the new decade are well-known regional names in the world of electronic music, Nebs Jack and Mladen Tomić, and this is only Phase 1 of confirmed performances!
With innovative and spectacular visual and pyrotechnic content, top quality sound and the best stages, rich content of festival zones, a modern festival camp and numerous tourist attractions of the town on Vrbas, we hope you are ready for a new decade and a new festival experience.
Soon we will bring information about the first wave of festival tickets, which will be available to the most loyal fans of the festival at the best prices, as well as all information regarding the festival camp for Freshwave 2023.