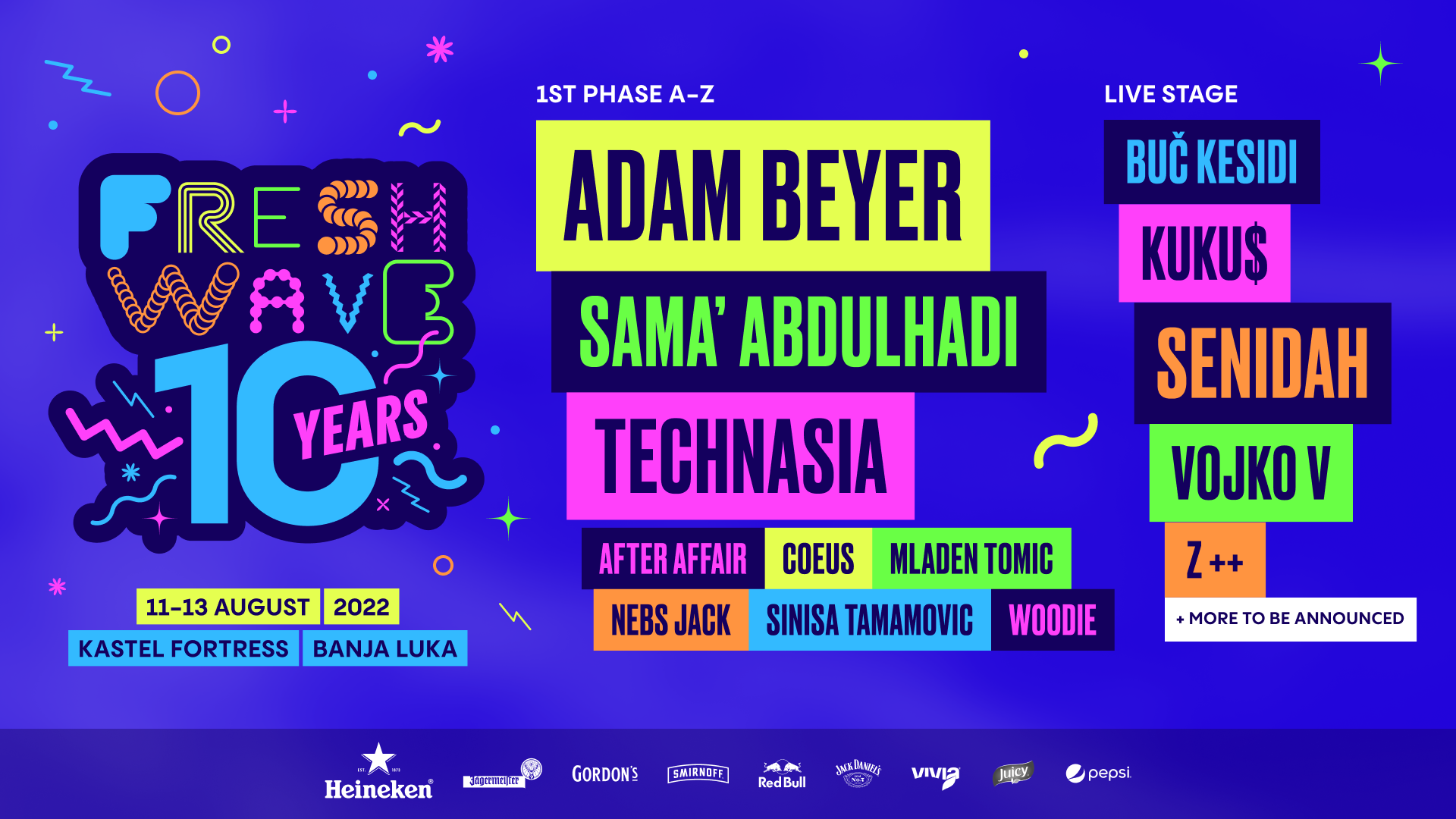 27 Apr 22
Some of the most wanted regional artists complete the first phase of FW10!
Fresh Wave 2022. will bring some of the most wanted regional music artists from August 11 to 13 to fortress Kastel in Banja Luka. We will dance with: Buc Kesidi, SENIDAH, Vojko V. Kukus, Z ++, After Affair, Mladen Tomic, Sinisa Tamamovic, Coeus , Woodie and Nebs Jack! And the Jägermeister LIVE stage will host some of the hottest regional music artists: Buc Kesidi, Senidah, Kukus, Z ++, Vojko V.
Buč Kesidi are the band in the center of attention. They become a hot stuff, since they hold five big concerts in a row.  With only one day break, during September last year on the same stage in Zagreb, they made history. This will remain recorded as something that has not happened to bands from this area. It also speaks a lot about the commitment to persevere in quality and in every sense of noteworthy work! After two albums Posesivno-ospulsivni hospul from2016. and Euforija  from 2019. they announced new material. Some of it will be a part of their show the on the Fresh Wave Festival. 
SENIDAH will performe for the first time, this summer, at the unique Kastel Fortress.  She is absolute record holder for the regional audience and placed at the top of the almost all music lists.  Her jurney from the club podiums to the big festival stages in a short  time, shows why audience love her. In 2022. Senidah decided to step it up with on stage. She now perform with a multi-member band and that brings more exciting versions to her songs. Don't miss it on  Jägermeister LIVE stage on Saturday August 1
Vojko V. is coming again on LIVE stage. After an fantastic performance at last year's edition of the festival, we will enjoy this year too! For the first time, Kukus and Z ++ will arrive at the Kastel Fortress this summer!
Kukus Klan or  Kukus is a trap trio that have cracked a discography with many albums and singles in just a few years. Kukus have garnered quite many nominations and significant regional awards for their music! Also, with each new song, they break records on the social networks. Their single called Sve ili ništa  (Everything or nothing) had million-strong auditorium. It is on soundtrack for the famous movie Juzni vetar 2 and will be a blast on Jägermeister LIVE stage!
Zvonimir Husnjak a.k.a.  Z++  has two studio albums and a dozen single releases. Z++ performe at regional festivals last year but this summer he will play on the Fresh Wave Festival.  His song Kabriolet (Cabriolet) will drive us thru upcoming August on fortress Kastel!
Mladen Tomic, After Affair, Sinisa Tamamovic, Coeus, Woodie and Nebs Jack will complete the Phase 1!
The story of festival resident DJ Mladen Tomić is well known. A co-owner of the Night Light Rec label. is considered to be one of the highest quality producers and artist from BiH! Through the Atomic Academy Mladen get involved with upcoming DJ stars. His Radio show Get Connected makes him an artistwith pure dedication to music!
DJ duo After Affair are masters of back2back sets. Known for fresh releases and special mixing skills they manage to get the best of the audience. Incredible is that with each selected new song that finds place in their set the hype that they create is high. An army of fans follow After Affair on all gigs and we can say keeping the urban culture on regional scene.
The second part of the co-ownership duo of the Night Light Rec. Siniša Tamamović, is one of the most exciting BiH performers. From London clubs to the world, Sinisa has built a respectable career of music produceer and DJ. His DJ sets often include tracks that delight the audience what speaks for it self in case of his quality. His dedication, DJ performances and also production explains why is he so successful.
DJ Woodie is one of the pioneers of electronic music in BiH. His ability to be a few steps ahead of the audience makes him interesting artist and electronic music performer. Coeus is at the famous label Afterlife , but even before that he was considered to be a prospectus that will do a lot on the world electronic scene! This prophecy is being fulfilled. After a notable performance at last year's Fresh Wave Festival, we will see him this year again!
Nebs Jack is founder and resident DJ of Fresh Wave Festival. And  also the creator of a unique dance concept Art Of Emotions.  For many years Nebs has been a recognizable name on the regional electronic music scene.  Nebs Jack shared stage with the icons of world electronic sound and left an indelible mark that is more and more visible and significant all over the globe!