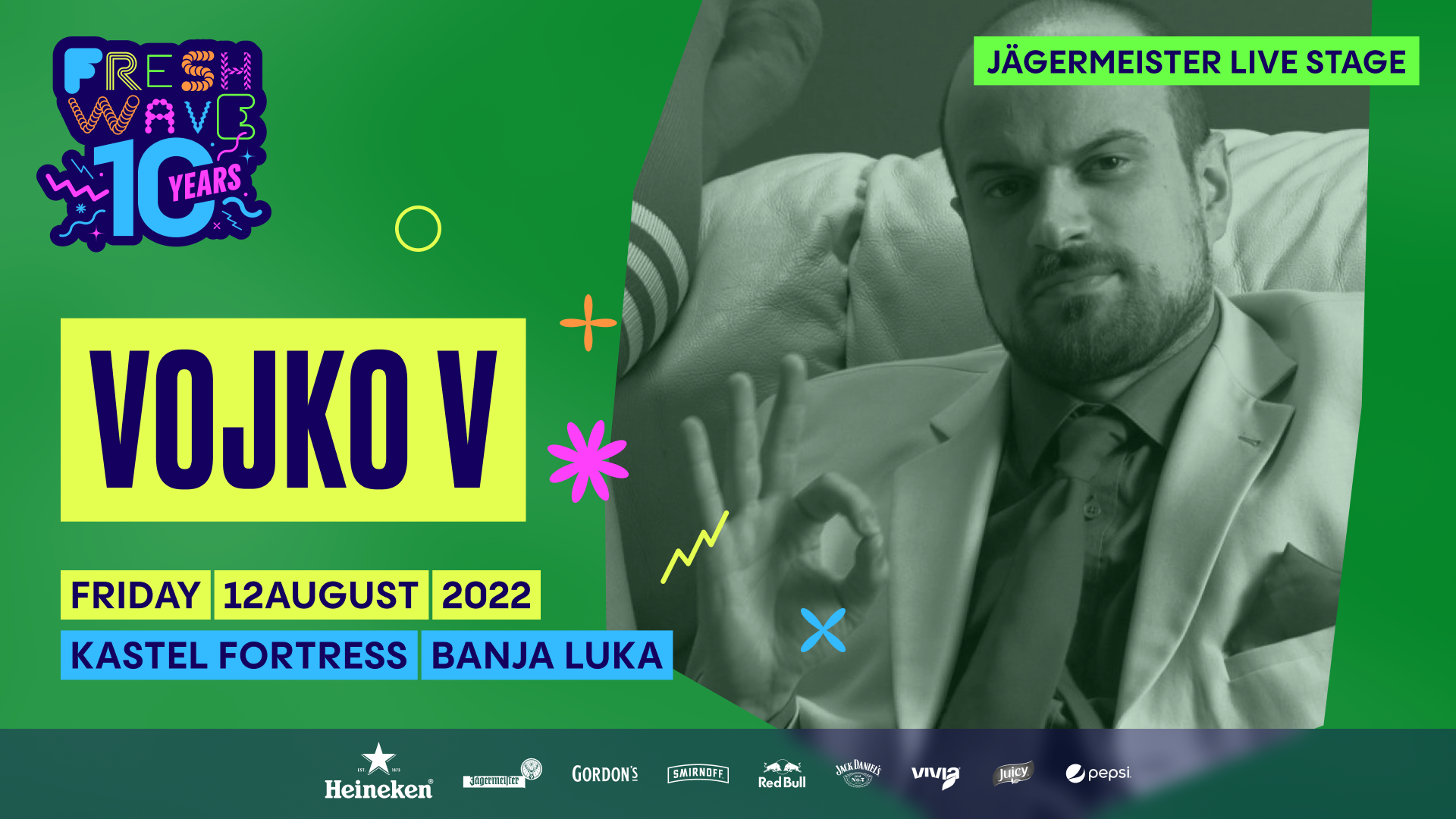 06 May 22
Vojko V is coming… you better watch out!!!
This summer, from 11th to 13th of August, expect an intense outburst of energy at the Jägermeister LIVE stage because it will host some of the most wanted regional names, like Buč Kesidi, Senidah, and Vojko V... and this is just the beginning!
Vojko V is coming… you better watch out!!!

After the unforgettable and fantastic performance of the Split vendetta Vojko V at last year's festival edition, we are sure that the festival audience would hold a serious grudge against us if we don't repeat such a spectacle. One of the hottest & most wanted names of regional hip hop sound, Vojko Vrućina a.k.a. Vojko V, started his solo career after years spent in the popular, award-winning hip hop band from Split, named Dječaci.

Vojko released his first album with Dječaci in the fall of 2008, named "Drama" for Dop Records/Menart, which won Zlatna kugla award for Album of the Year in 2009. The next two albums – "Istina" and "Firma" – were released for Croatia Records in 2011. and 2015. In 2018. starts his solo story that gave birth to hits such as "Zovi čovika", "Pasta Italiana" or "Ne može".

Vojko showed that he truly can do anything after his successful first solo album called "Vojko" won the famous Porin Music Award 2019. in almost all categories and thus sealed his name at the top of the regional hip hop performers' list. Vou would think that after such major success it would be hard to do anything similar, but his creativity and hard work produced material that this year's audience will have the opportunity to hear.

Don't forget that you can get your Early Bird three-day tickets at kupikartu.ba. The number of these best price tickets is limited, so only the quickest will have an opportunity to lay their hands on them. And to celebrate our jubilee edition, we have prepared a completely free stay in the festival camp for everyone who buys a three-day festival ticket. The festival camp will be located along the walls of the Kastel Fortress, on the left bank of the Vrbas River. In addition to complete infrastructure, gastronomic offer, bar, DJ stage, and thick shade under the canopy of willow and plane trees, visitors can enjoy rafting and have unforgettable moments on unique, traditional Dayak boat rides.
To secure your place in the festival camp on time with the already purchased three-day festival ticket, you need to register by e-mail:

camp@freshwavefestival.com or to do so by calling +387 65 975 106.